There's so many debates about the niçoise salad : while Auguste Escoffier, famous French chef persists in adding rubber green and potatoes into it, the real nissart are not joking on this point. There are unanimous : there aren't any cooked foodstuff in the genuine Nice salad (except tuna and hard-boiled eggs).
Originally, the niçoise salad is made up with local food and intended for poor people. Later, it get some colours and is on the rise.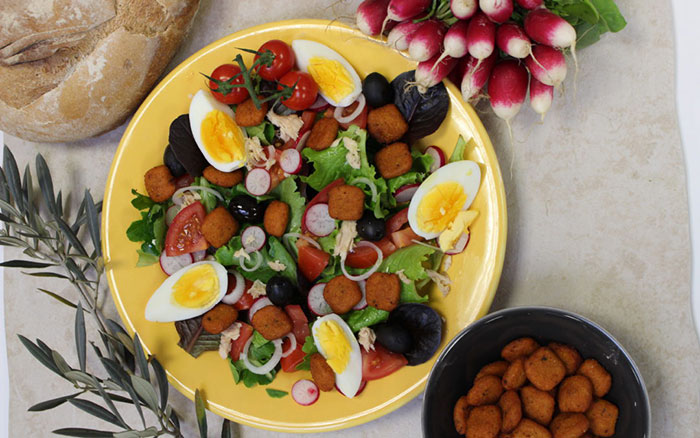 Niçoise salad
For 4 people:
4 beef tomatoes
200g of beans
1 spring onion
250g of tuna
6 anchovy filet
100g of Nice olivee
Garlic
Salt, pepper
Olive oil
Basil
4 hard-boiled eggs
Polenta… Finding its roots in Italy, what could be better that this generous corn meal to go with the niçoise salad ?
Natural source of minerals and vitamins, it will be able to complement any salad as such as crouton.
Varachaux is playing with shapes : among fingers, sticks, usual meatballs, we can offer you polenta stamps.
In a Provencal style, unflavoured, with spinach, Varachaux can adapt the recipe to your plans !