You don't ? Well, it's quite simple, this term can be easily translated into French as "food that is eaten with the fingers". Close to tapas, the concept comes straight from the United States: inspired by the development of fast food that favors speed, mobility and facility, this is however far from rhyming with junk food, rather the contrary !
While in many countries around the world, traditional dishes have been tasted for a long time, the trend is now starting to develop in France. With finger food, you can combine practicality, originality, sharing and mixing tastes. Whether for a pre-dinner, for a moment with friends, for a picnic… French people drop the cutlery…
The single service size, it's the fashion
Even if it is always nice (and more traditional) to gather around a table to share a good meal with cookware, the finger food is full of surprise. Flexible concept, wide range of textures, colors and flavors, the individual portion can be declined in several formats: breaded or not meatballs, sticks to dip, rolls, soups, purées, tarts, mini-pizzas, quiches, muffins …
Finger food is also an opportunity to rethink the great classics in small portions. Many chefs have also tried this art. Some examples:
Modernized pasta Bolognese: create a nest of spaghetti on which you will deposit a meatball filled with tomato sauce, all presented in a spoon.
Inverted Parmentier mince: a meatball with an insert of mashed potatoes inside
However, making homemade finger-food bites can take time: an opportunity is created to offer consumers ready-to-use products.
Varachaux suggests individual portions ready to be tasted or integrated into finger-food recipes.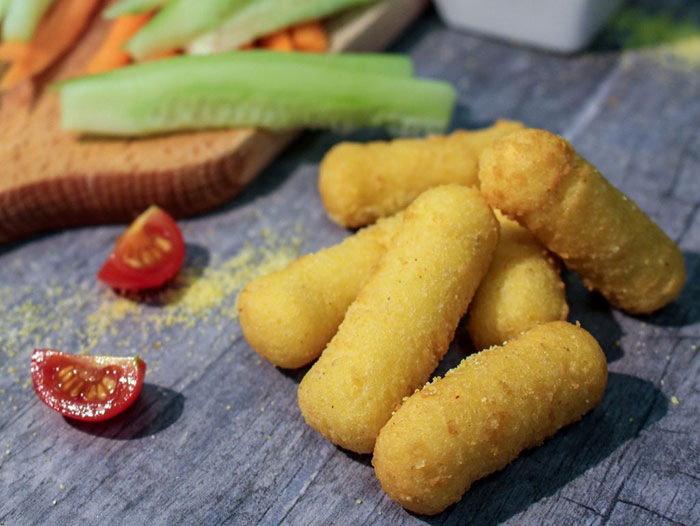 Products with inclusion
We are proposing new products with inclusion.
Our vegetarian balls or sticks with fondant heart (basil, lemon), our meatballs stuffed with cheese, tomato sauce or vegetable puree in different sizes will certainly bring modernity and freshness to your recipes.
The smallest balls are available in 3 grams: mini weight but maxi flavor!
New forms adapted to finger food :
We are able to elaborate for you several original shapes for quick to prepare and original pre-dinner. We offer dumplings, cubes, sticks… that the consumer will have a lot of fun to dip in a sauce for example.